Isn't it funny how everyone wants today to be Friday when it's a working day? Why is it not "Thank Crunchie its's Saturday"?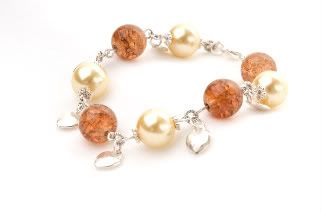 Running with the Friday theme here is a photo of my coveted Crunchie Caramel Hearts Beaded Charm Bracelet available at
www.rosewills-charms.co.uk/shop
These beaded charm bracelets are best sellers at events. This is a limited edition beaded charm bracelet, from my debut website collection and add a touch of something unusual and different to any outfit.
I have fun packed action with the children organised for this weekend, which involves a "Cup Cake Festival" in town. The only thing better than chocolate for me is.....CAKE!!